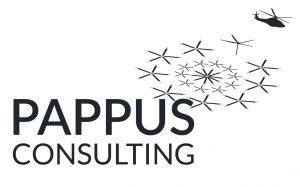 pappus
1. the tuft of hairs on each seed of thistles, dandelions, and similar plants, which assist wind aided dispersal.
 Providing the conditions to develop, grow and disperse.
---
practical strategy
practical processes
practical leadership
---
Helping business and aviation and healthcare users to increase safety and profits with practical strategy, processes and leadership. Pappus helps organizations get to the next level in a practical way.
Aviation Consultant.
Aviation standards
Aviation Health and Safety requirements
Approved contractor audit and assessment
Risk assessment and management
Aviation business start up 
Safety Management Systems and training
Chief Pilot Helicopter and/or Fixed Wing (VFR & IFR)
Human Factors
Operational systems
Aviation Procurement (Helicopter, Fixed Wing, Drone)
Pappus is a company that delivers strategy, project management, safety and risk management, change management and leadership advice to public and private sectors. An ability to think and engage strategically and tactically, and a reputation as a company who gets things done.
Pappus is about practicality. We partner with you to deliver simple, usable solutions that fit your systems and culture.
Not sure about where you want to go?
Need to change and adapt?
Need to identify hazards and manange risk?
Need an aviation expert?
Need to engage or manage aircraft safely?
Pappus can help you.
We engage with a diverse cross-section of organisations in New Zealand and internationally.
---